Launched in 2015, Plaid for Dad raises awareness about prostate cancer and vital research funds to improve and save the lives of those affected by the disease. It has quickly become a fun and easy way for Canadians to celebrate dad and help the 1 in 9 men who will be diagnosed with prostate cancer in their lifetime. When detected early, survival is close to 100%. Early detection is key. When it's not detected early, survival rates 5 years after diagnosis drop to 28%.
As the impacts of COVID-19 are felt around the world, our work cannot afford to slow down. That includes our ongoing investment into ground-breaking prostate cancer research that will improve and save lives.
We're expecting thousands of workplaces and individuals from across Canada to Go Plaid through donations, fundraising, and events. The Friday before Father's Day (June 17, 2022) is officially designated as the day to wear Plaid for Dad. Participants will share photos online using the hashtag #PlaidforDad to show their support and help spread the word.
Your Plaid for Dad support will fund ground-breaking prostate cancer research so fewer men will be affected by cancer. You'll also help reduce the burden of a diagnosis by providing practical support, like essential information to help navigate a cancer journey and emotional support by connecting men with cancer to someone who's been there.
Be part of this incredible fundraising campaign! How will you Go Plaid for Dad?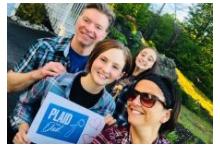 How Donations Work
Click any 'Donate Now' button and then decide your donation amount. You will then be forwarded to your payment processor of choice. Once your donation has been processed it will be sent to your charity of choice.
Need Some Help?