The CIBC Run for the Cure unites a collective of Canadians who are a force-for-life in the face of breast cancer. With the support of that collective, we fund breast cancer research, compassionate support services, trusted cancer information and advocacy on behalf of all Canadians.
Since the event began in 1992, the CIBC Run for the Cure has raised over $480 million for breast cancer research and support. Together, we have made major progress in breast cancer support, prevention, detection, diagnosis, treatment and care. But as more than 70 Canadians receive a breast cancer diagnosis every day, we know that there's still so much more to be done.
Join your fellow Canadians and make your promise to fund the best breast cancer research and support services by signing up for the CIBC Run for the Cure today at cibcrunforthecure.com.
Please note that you can select the amount of information that you would like shared with CCS. If you do not share this information your donation will remain anonymous.
IMPORTANT – Please note that donations will not be designated to a specific participant's fundraising page on the website.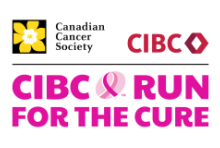 Fonctionnement des dons
Cliquez sur n'importe quel bouton « Donner maintenant », puis décidez du montant de votre don. Vous serez alors dirigé vers le traitement de paiement de votre choix. Une fois votre don traité, il sera envoyé à l'œuvre de bienfaisance de votre choix.
Besoin d'aide?