India is being hit by a rapidly worsening, deadly second wave of coronavirus infections. Health and critical care facilities are overwhelmed, leaving people without the life-saving medical care that they so urgently need. Last week has seen a major escalation of case numbers and a new variant suspected of stoking surge in India – and India now accounts for some 40% of all new cases of Covid-19.
The human cost is dire. As well as the devastating impact on children's lives and futures from the human, social and economic costs of the pandemic, this new surge in COVID-19 cases is seeing more young people including children. Grappling with the sudden rise in COVID-19 infections, India's health facilities are facing the upsetting prospect of not having enough oxygen for their patients. This life-saving gas helps patients breathe when they cannot do so on their own – whether patients with severe COVID-19, children with pneumonia or hypoxemia, or newborns and mothers with birth complications. Even before COVID, every year 4.2million children in low/middle-income countries need medical oxygen to survive.
How your urgent support can help:
UNICEF India has launched an urgent appeal for funding to help save lives during this new devastating wave of COVID-19 infections. This support will help by;
- Increasing access to life-saving oxygen supply in hospitals treating severe/critically ill COVID-19 patients
- Purchasing RT-PCR Testing Machines to speed up identification of new cases &treatment by boosting laboratory capacity
Boosting access to critical oxygen therapy and acute testing will help strengthen the country's health system as it struggles to cope with the huge rise in COVID-19 infections.
Increasing access to life-saving oxygen: Oxygen therapy is a critical treatment for moderate and severe/critical COVID-19 patients. Just one critically ill COVID-19 patient requires between 25-80,000 litres of pressurised oxygen per day for around 5 days. A new on-site Oxygen Generation Plant (OGP) can provide enough oxygen for a 500 bed hospital. Hospitals treating severe/critical cases will be prioritized – but with a lifespan of 20 years, each OGP unit will continue to save lives of ill patients for years to come, including neonatal and obstetric care, surgery and intensive care.
Boosting RT-PCR testing: Rapid, accurate testing is an essential tool in the fight against COVID-19.But growing delays in processing of 'gold standard' RT-PCR tests are jeopardising timely diagnosis &treatment. By procuring additional RT-PCR machines UNICEF can help boost test processing capacity in some of the worst affected districts. Lasting up to 10 years, each new testing unit will not only speedup identification and treatment of COVID-19 infections, but provide a legacy for testing for other deadly diseases such as TB, HIV, HPV and streptococcus, when COVID-19 declines.
We need to act now.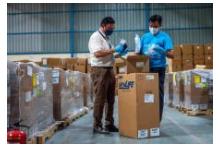 Comment fonctionnent les dons
Cliquez sur le bouton « Faire un don maintenant », puis décidez du montant de votre don. Vous serez alors dirigé vers le traitement de paiement de votre choix. Une fois votre don traité, il sera envoyé à l'organisme caritatif de votre choix.
Besoin d'aide ?